A portable solar oven is a redundant phrase, since all such sun-powered cookers are by their nature unplugged and mobile. But despite their similarities in conveyability, there is a vast spectrum of quality among portable solar ovens. A science-fair box cooker and a GoSun Grill both operate by the same principles; however, the former will barely boil water while the latter can bake, roast, or steam enough food for six in less than an hour.
How do you choose a reliable portable solar oven? Here are four that will meet your specific needs, whether it comes to 
Most Mobile Portable Solar Oven : The Go
The GoSun Go is arguably the most portable solar oven ever design. Weighing in at only two pounds, you can easily take this cooker with you on a hiking trip up a 14K summit or to the bottom of the Grand Canyon. This ultralight solar cooker can truly bake, roast, steam, and boil anywhere.  
Weight: 2 lbs (0.9kg)


Max temperature:

 

550°F (290°C)

Cooks most meals in 20-30 minutes
Boils 14oz of water
Fastest Portable Solar Oven: The Sport
The Sport goes anywhere and can make anything that can be steamed, bake, or boiled in 20 minutes. It's breakthrough heating technology works on any day, whether blue bird skies or English-type cloudy overcast. 
Weight: 7 lbs (3.2 kg)


Max temperature:

 

550°F (290°C)
Largest Portable Solar Oven: The Grill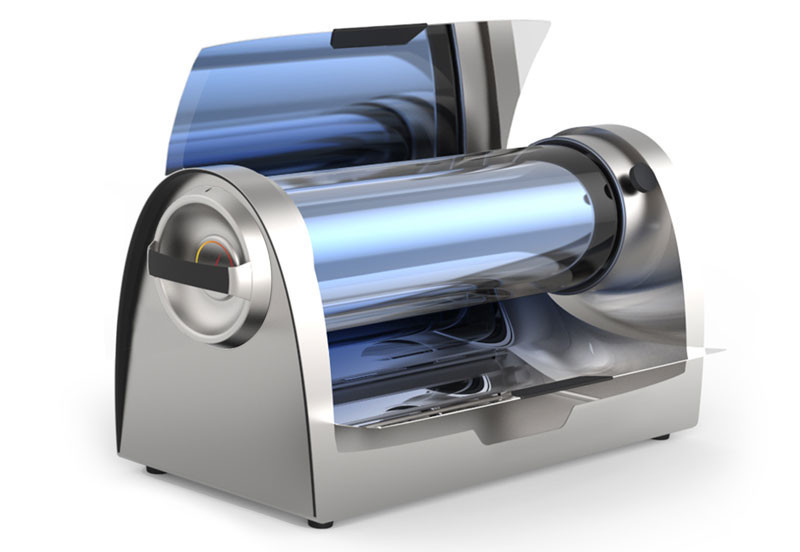 No portable solar oven makes more food for people faster than the GoSun Grill. It can can bake, roast, and steam a meal for 6 people in just an hour. Two pans allow your inner chef to cook anything.
Weight: 30 lbs (13.6 kg)


Max temperature:

 

450°F (232°C)

Works on sunny or cloudy days
Ideal for 4-6 people
Best Package Deal for a Portable Solar Oven: Sport Pro Pack
The GoSun Sport Pro Pack can cook a meal for two in just 20 minutes under direct sun. Take it with you for camping, the backyard, decks, a boat trip, a road trip, or even in an emergency. Not hungry? It can easily heat water for tea and coffee. 
The Sport Pro Pack contains a GoSun Sport and everything you need to make full use of it:
Padded carrying case for secure travel
Extra cooking tray for prepping your next dish
Non-stick silicone baking pans for easy cleanup
Brew accessory to boil water