A tiny house is, at its simplest, exactly what the name implies: a residential structure usually 400 square feet or smaller. But it's far more than a little domicile. A tiny house is part of a movement that advocates living in small homes to promote financial prudence, shared community experiences, and breaking away from a consumer-driven mindset. In this post, we'll go over tiny house plans that will give you the info you need to see if this is the right lifestyle choice.

There are many factors to consider when making such a move. How do you handle practical utilities issues like plumbing, electricity, sewage, and water? What are the challenges that come with living in a tiny house, especially one that is off the grid? How handy do you have to be to overcome the challenges that will inevitably come? What do you do about appliances that require electricity but you can't live without?

The good news is that you do not have to be a complete hermit to live in a tiny house, nor do you have to adopt an Amish lifestyle and completely forsake electricity. New solar powered devices are coming to market that make living off the grid easier than ever.
There are a growing number of tiny houses on the market. We think the GoSun Dream is the best. The Dream is a solar-powered off-grid tiny house. GoSun designed the Dream to help you live a more independent, healthy, and resilient life. No strings attached. Take any place. Park any place. Live anywhere.
GoSun is best known for its innovative solar ovens and outdoor gear. The Dream takes all its innovations and houses them in a complete lifestyle package in the form of an off-grid tiny house features a compact interior layout with an elevating bed.

The Dream is based on a standard double-axle trailer and measures a total length of 22 ft, with interior floorspace of 195 sq ft. Its exterior has corrugated metal and wood, and also has an optional electric awning that offers shade outside.

The Dream comes with all of GoSun's breakthrough, portable solar appliances. Stay cool with the ice-free Chill, cook with the solar + electric hybrid Fusion, and clean with the Flow water system.

An easy home on wheels, the Dream is designed for locations with decent solar exposure and a lack of infrastructure - power, water, or gas. These sites can be found in urban and suburban settings, or in remote countryside or farms.
Your Best Tiny House Plans
The GoSun Dream is heated with a mini-split air-conditioning unit and includes a ceiling fan and ventilation unit. It is powered by a 1.4-kW roof-based solar panel setup which is hooked up to a 4-kWh lithium-ion battery. If you need more power, it can also be connected to a standard RV-style hookup. There are also additional water tanks.
 
GoSun Dream Specs
GoSun Dream gathers the most appropriate and efficient technologies under one roof. All appliances included, just add furniture and decor .

Of course, the Dream comes with all of GoSun's breakthrough, portable solar appliances. Stay cool with the ice-free Chill, cook with the solar + electric hybrid Fusion and clean with the Flow water system.

A home on wheels, the Dream is designed for locations with solar exposure and a lack of utilities - power, water, or gas. Proper sites found in urban, rural and suburban settings. Bring the Dream to any of the 15,000 RV resorts nationwide, or use for off-grid living, studio, property rental or vacation home.

Here are the tech specs:

Area: 195 ft²

Main floor: 165 ft²

Bed: 30 ft²

Width: 8.5 feet 

Length: 22 feet 

Height: 13 feet

Weight
Approx. 11,500 lbs

Systems
1.4kW Solar PV Array, Multi-Directional Mounts, Rails

4kWH Lithium Ion Energy Storage Battery

3,000W, 120V Grid and Generator Interactive Sine-Wave Inverter

Automatic Energy Recovery Ventilation (ERV)

Optional Electric Awning with Auto Retract

Low Flow Faucets and Atomizing Shower

40 Gallon (150L) Fresh Water Tank

25 Gallon (95L) Grey Water Tank

25 Gallon (95L) Black Water Tank

Appliances
High Efficiency Air Conditioner

Electric Queen-Sized Bed Lift

GoSun Chill: Portable 40L Fridge

GoSun Fusion: Hybrid Solar+Electric Oven

GoSun Flow: Water Purification and Sanitation System

GoSun Solar Table: 120Watt Charger and Collapsible Table

Biomimetic, Silent Overhead Fan

High-Efficiency Fridge

Dual Burner Propane Stove

Range Hood Vent Fan

Diaphragm Water Pump and Pressure Tank

Efficient Propane Space Heater

Efficient On-Demand Propane Water Heater

Flush Toilet, optional Composting Toilet


Appliances For Your Tiny House Plans
What about appliances for your off-grid home? What about cookers, coolers, light sources, and chargers for your electrical appliances? 
We're glad you asked! Turns out there are plenty of great solar-powered appliances that make living in your off-grid homes as convenient as possible. They include solar cookers, solar coolers, solar battery chargers, and even a solar-powered water purifier for washing dishes or taking a shower.
Below are some of our favorites. 
The GoSun Fusion is is the flagship solar cooker from GoSun. It is the world's first solar oven that can also cook without Sun. A hybrid solar + electric oven runs on sunshine or 12Volt from your car, boat, RV or PowerBank.
Meet the solar cooler that doesn't need ice. 
GoSun engineered a cooler that can keep colder temperatures longer and is more sanitary than anything else on the market.  Nothing is cleaner or easier than GoSun Chill. 
GoSun Chill can be powered by multiple power sources, including: Powerbank, AC Adapter, 12 Volt Cord (car port charger), Solar Table, or Flexible Solar Panels. This way, you can access the most convenient power sources when you need it. To charge the Powerbank, plug in the included AC Adapter into any wall socket (100-250VAC) or use one of our two solar charging options - the Solar Table or Flexible Solar Panel.
The Flex is a solar cell phone charger that easily folds up and produces an incredible amount of electricity to charge all your USB devices. It can charge up your phone with its built in usb port as fast at your plug in outlet.
Here are the dimensions:
Unfold size: 267 mm x 349 mm x 2.5 mm
Folded size: 267 mm x 175 mm x 5 mm
Net weight: 0.43 kg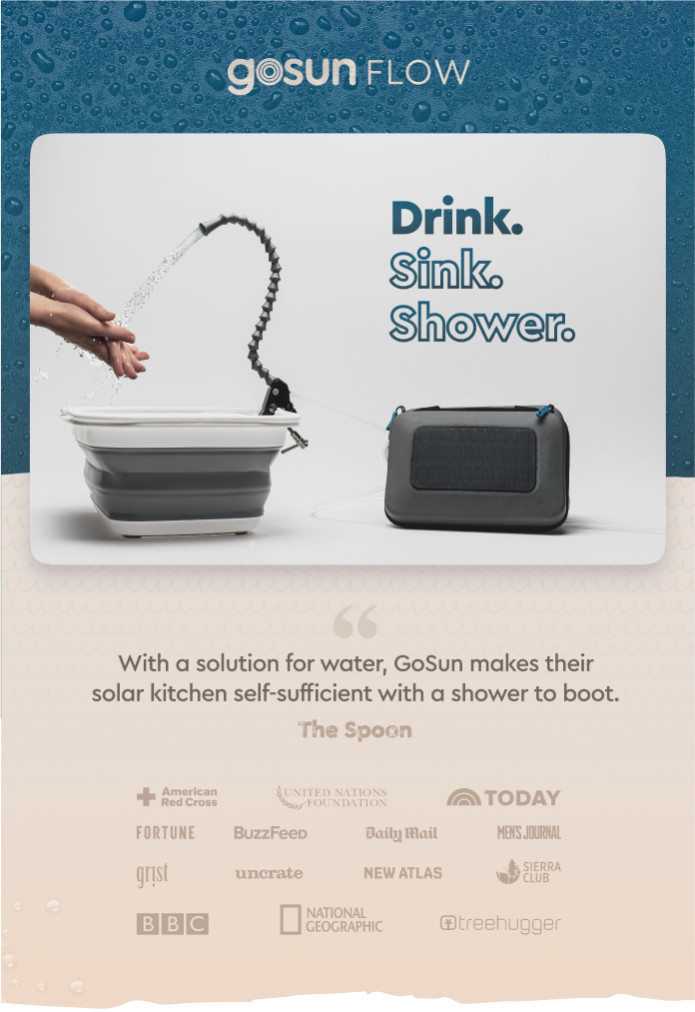 The GoSun Flow is doing things with solar energy that few ever considered. It purifies water -- up to 99.99% of all pathogens -- making it a portable handwashing station, shower, and source of clean water. It's small enough to fit into a backpack, which means clean water can now go wherever a person can. 
Check out this video to see how all your dreams can come true with the GoSun Dream.