How do you like to experience nature? Are you an outdoor camping or hiking enthusiast? Or do you like things less rustic and are more of a back-yard-barbeque-with-friends type?
Whatever way you enjoy the outdoors, you know a great party or adventure is a lot easier with high-quality equipment that lets you enjoy hot food and a cold drink. And in every way that counts, GoSun has you covered. 
GoSun's Solar Kitchen is designed with you in mind, to bring the comforts of your kitchen to your backyard and beyond. If you are cruising on your boat, having friends over for lunch, or just want to enjoy some outdoor peace and quiet with your loved one, the Solar Kitchen has everything you need for a perfect outdoor experience.
We're talking everything that you can find in a kitchen - a fridge, oven, even a portable electric outlet. The GoSun Solar Kitchen lets you cook, cool, and charge - anytime, anywhere. IAdjustable, powerful, efficient, and with a great work surface, the Solar Kitchen is a bundle that includes everything you need for your off-grid adventures!
Fusion
The world's first solar oven that can also cook without Sun. A hybrid solar + electric oven runs on sunshine or 12 Volt and it can bake, steam, cook, anything day or night!
Chill Cooler
A soar cooler that doesn't need ice. The Chill can keep food cold, frozen, dry, and organized - no ice required. The included Power 144 lets you charge devices and power your Chill day and night.
Solar Table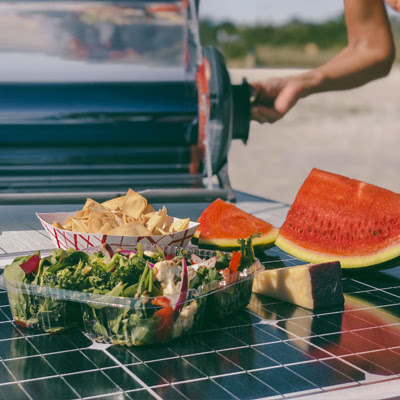 Designed to charge the Power 144 or Power 266, the SolarTable 60 is our fastest, most powerful solar charger. Use the sun to power the Chill and Fusion at night. With a 60W collapsible solar table, you have a tempered glass table surface and shade to cover the Chill.
Power 144
Power 144 unleashes the freedom of portable power. Capable of charging both your Chill and Fusion, but also laptops, tablets, cameras, phones, lights, and other devices - just plug in anywhere, anytime.
Still not convinced? See the Solar Kitchen in action and learn how each item in the bundle can provide the comfort of home, while on the go. Enjoy a delicious meal accompanied with an ice-cold drink, all with the power of the Sun!