Summer is nearly here. We're looing forward to all the BBQs, beach trips, and cold drinks. Unfortunately, annoyances come with summer to. You have to drag your cooler around with you to pack your snacks and beverages. All that ice you need to keep your items cool are the ones adding all that weight.
What if you could keep your food and drinks cool without all that ice? Guess, what? The GoSun Chill is about to make all your dreams come true.

Shop GoSun Chill ➞

The GoSun Chill Solar Cooler is on sale now for 15% percent off its list price, and it makes all the other expensive coolers on the market look like a real waste of money considering what it can do. That's because this cooler doesn't require ice.
As our friends at PopSci note, its technology uses energy to keep it cool, so you don't need buy bags or crack trays from your freezer. The cooler can rely on solar power for energy, but it can also use a power bank that comes installed. Right now, for more than $100 off, you can purchase the cooler for just $635.

The Chill even comes with a touch screen that allows you to control the temperature and energy output. You'll want to adjust depending how much power the it's got left. Without packing ice, you'll be able to fit twice as much food and drink inside for day trips and more. Plus, the power bank allows you to charge any USB-connected devices while you're out enjoying the sun. That means your phone will never go dead on a camping trip again.

The battery is something many enjoy as it provides an extra power source while folks are out enjoying the wilderness. Though the cooler doesn't come with a solar table or panels, you can buy those too to help provide other power options.

Users have raved about what the GoSun Chill Solar Cooler has got to offer. One reviewer wrote that they're "obsessed" with theirs.

Catch the GoSun Chill Solar Cooler while it's on sale for $635.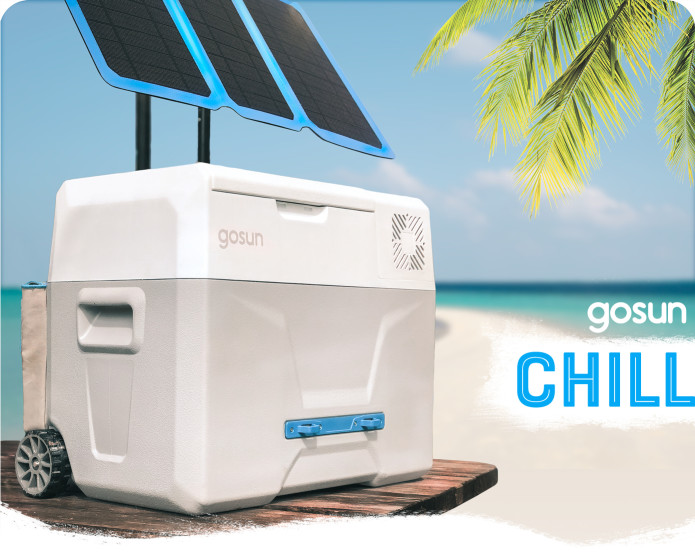 Why The Chill is a Camper's Best Friend
A solar fridge for camping has numerous advantages over a regular cooler. Here are three of them (although these advantages may not apply to all models of solar coolers).

First, there is no need for ice. Tired of having food turned into a soggy mush if it isn't protected by three layers of Ziploc bags? Tired of having to drive into town every 24 hours to replenish your supply of ice? Tired of being unable to completely disconnect from the grid? A solar fridge for camping is the way to get out of the ice age. Plus you can now utilize 100 percent of the space within a cooler when ice isn't part of the equation.

Second, a solar fridge for camping can ironically help you to stay more grid connected by being able to recharge your electronic devices. In the case of the GoSun Chill, it is powered by a portable lithium battery pack. The large 150 watt-hour solar power pack can also power laptops, cell phones, and many other portable accessories, making it the perfect outdoor product to be prepared for a power outage or emergency. The detachable power bank packs enough juice to charge your phone 20 times over.

Third, the highest-end models can be charged off the grid in only a few hours. In the case of the GoSun Chill, you can recharge the battery with the solar table, equipped with a 60w panel that delivers a full charge in just three hours and keeps the solar fridge shaded.