Solar electric fridges are the best sort of coolers for off-the-grid locations where AC power is not available and no conventional fridges dare to tread. They can keep food preserved without the need for utility-provided power, a major advantage in undeveloped areas where electricity availability is intermittent and unreliable. OK, so electric fridges are great. But what is the best one you can buy?
The GoSun Chill Solar Cooler is by far the best portable electric refrigerator on the market (or at least it was until this month -- read more below). Its technology uses energy to keep it cool, so you don't need buy bags or crack trays from your freezer. The cooler can rely on solar power for energy, but it can also use a power bank that comes installed. 
Shop GoSun Chill ➞


The Chill even comes with a touch screen that allows you to control the temperature and energy output. You'll want to adjust depending how much power the it's got left. Without packing ice, you'll be able to fit twice as much food and drink inside for day trips and more. Plus, the power bank allows you to charge any USB-connected devices while you're out enjoying the sun. That means your phone will never go dead on a camping trip again.
Now the Chill is incredible. But GoSun has managed to top itself and produce an electric refrigerator that is even better. We're proud to present the Chillest, the ultimate solar powered refrigeration system.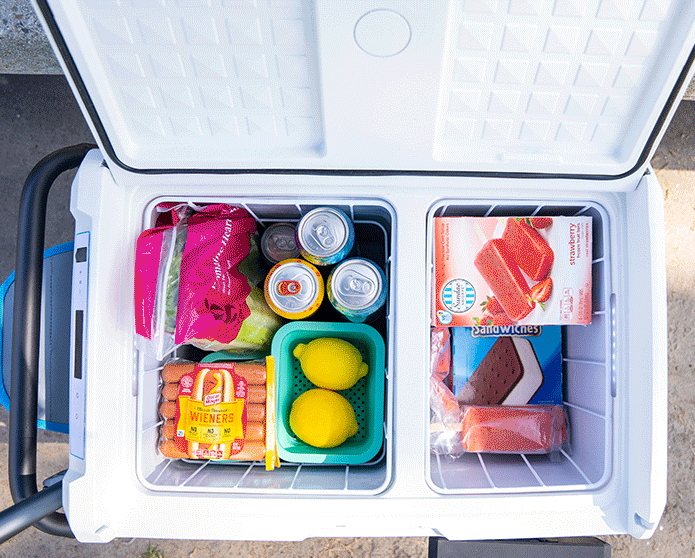 The 45 Liter cooler prepares you for any outdoor event with a built-in battery and all-terrain wheels plus thoughtful extras like inside lighting, tie down straps and organization baskets. It also has a built-in compressor that lets you set the temperature right where you want it with a range from -4°F to 68°F (-20°C to 20°C).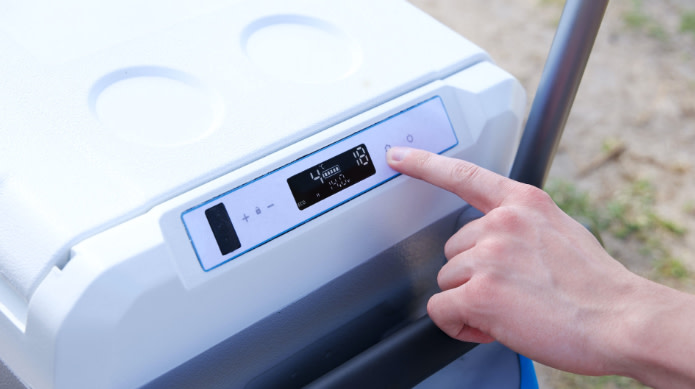 Without ice, you can use 100% of the cooler's volume. GoSun Chillest has nearly double the room for food and drinks when compared with coolers of equal dimensions!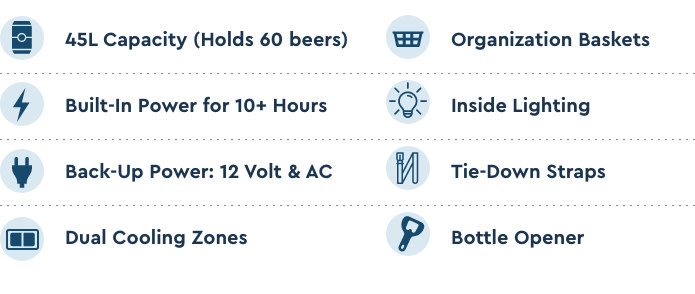 Cool and freeze anything you want for hours without using ANY ICE. The Chillest doesn't just chill your food and drinks, it keeps them frozen! Can you please grab the ice cream??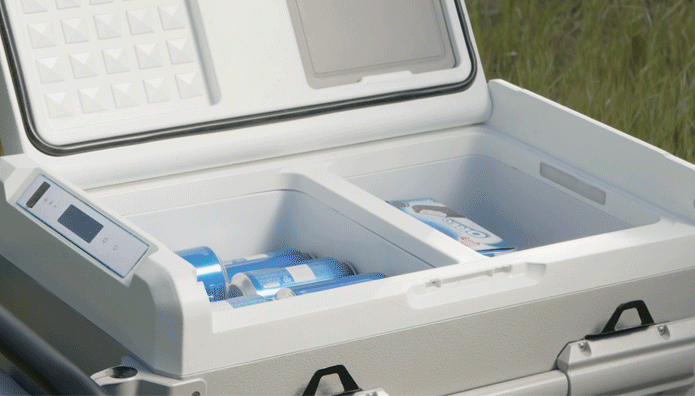 The dual cooling zones mean you have a freezer and fridge in the same device. You can set the temperature for each side anywhere from -4°F to 68°F (-20°C to 20°C) using the included App and touch buttons. You'll enjoy the coldest beer in camp and frozen ice cream ready for dessert.