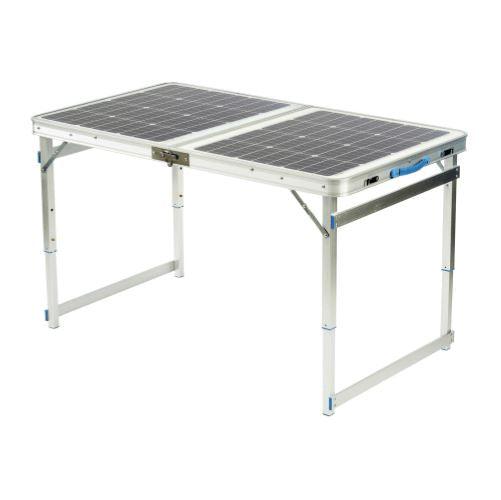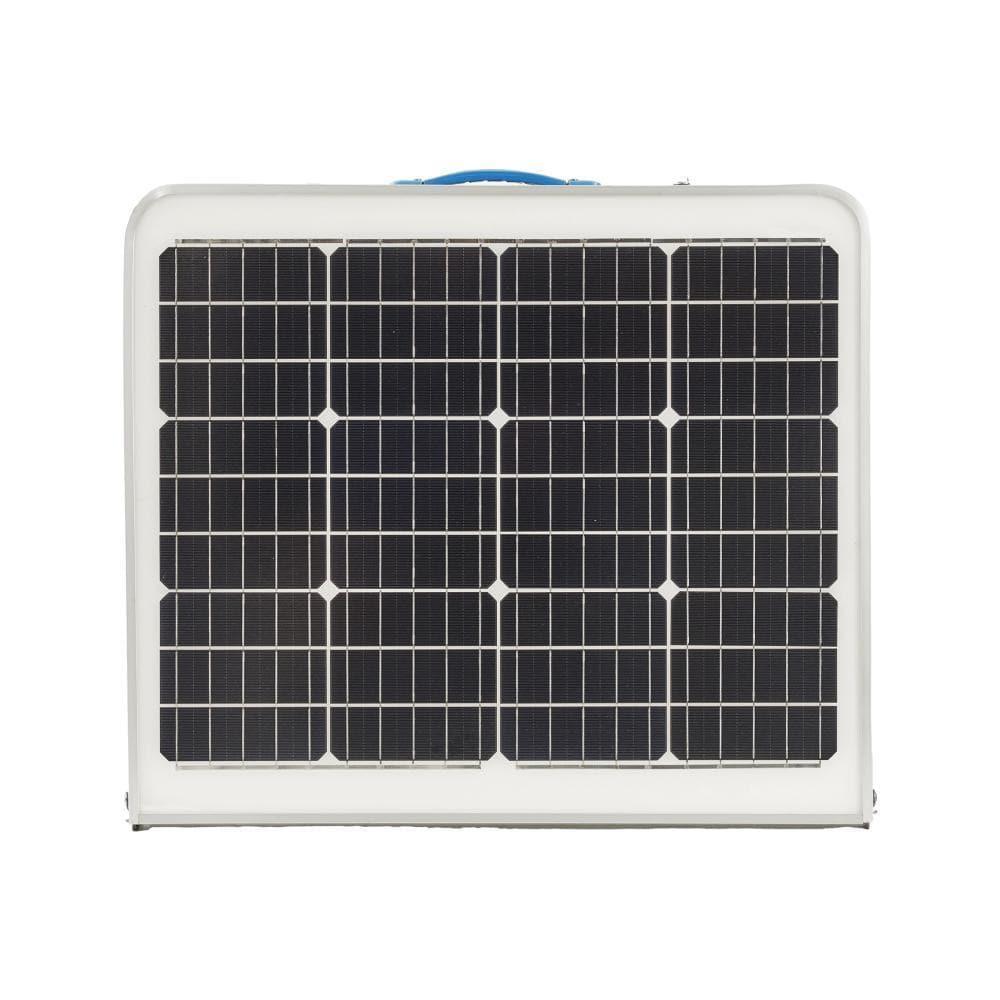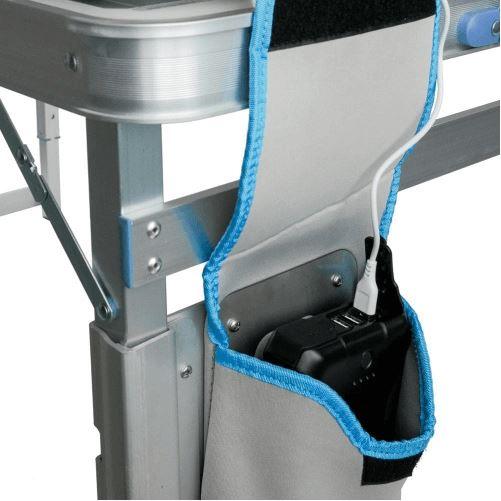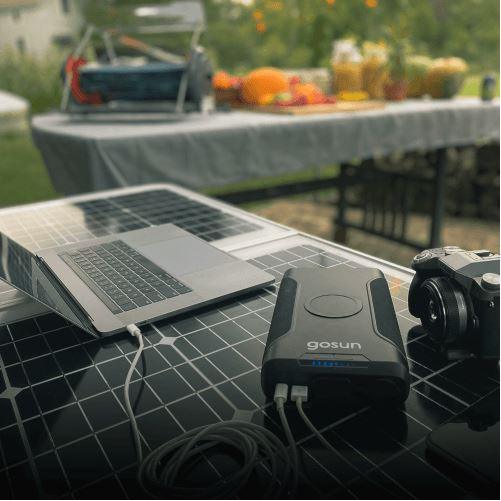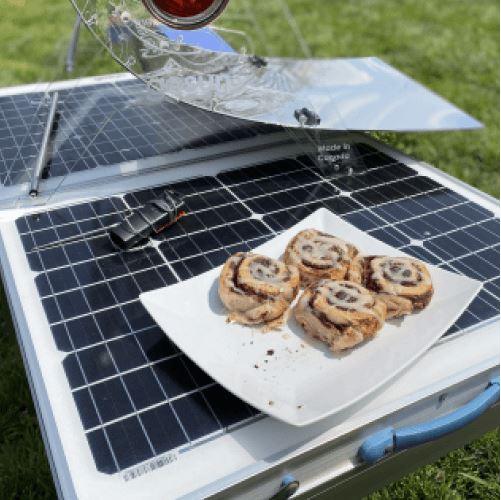 SolarTable 120
Charge & Power
120 watt solar array is also a convenient table. Tough tempered glass encapsulates two 60 watt, 12 volt solar panels. Folds into a compact, durable package to travel on your adventure. Adjust the table's angle to optimize solar production, plus it can be set to three table heights. Includes Pouch for holding battery + wires and Combiner Cord.
In stock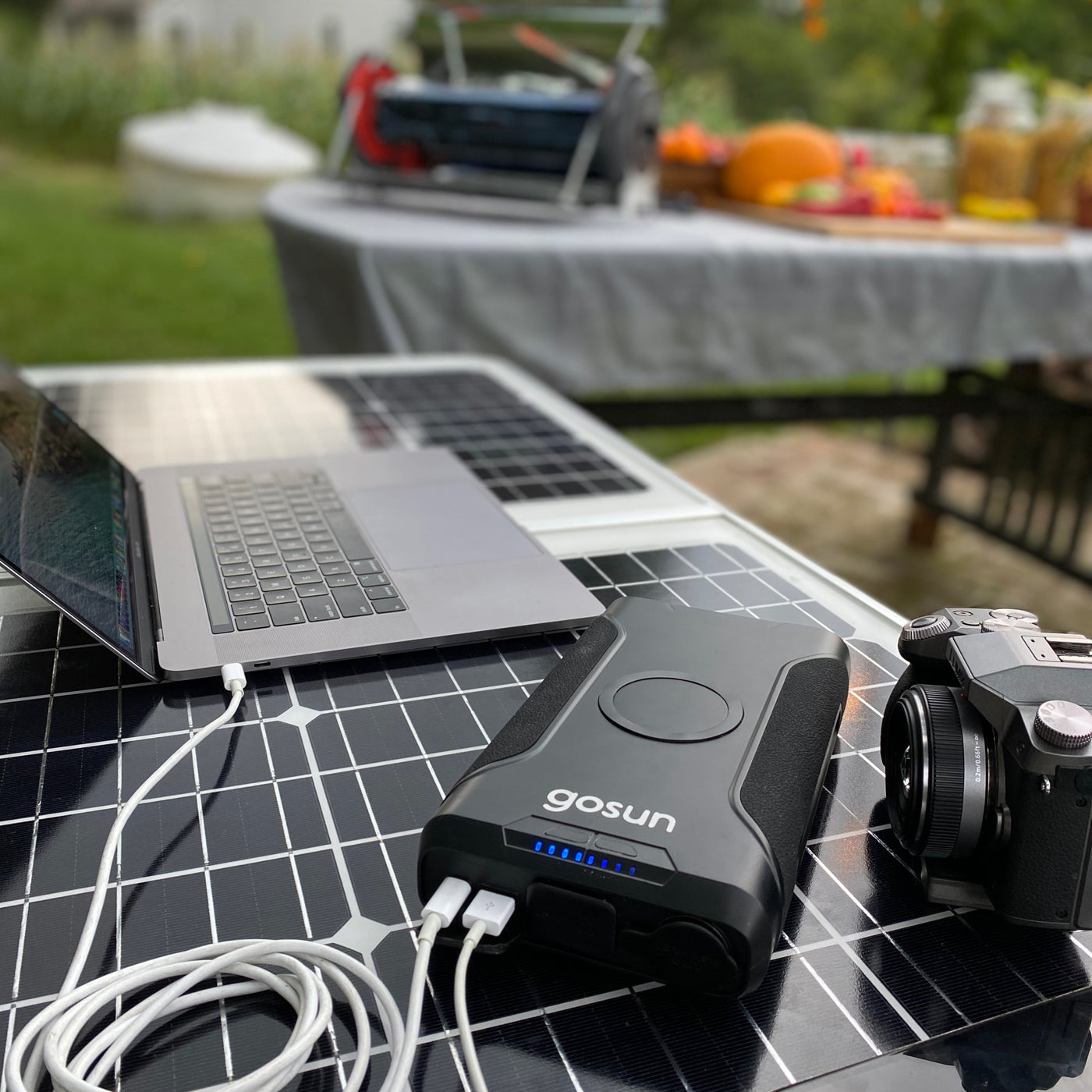 Charge your devices with the Sun
Designed to recharge the optional Power 266 powerbank, the SolarTable 120's lightweight aluminum frame folds into a portable package that is easy to carry and store.
PORTABLE SOLAR TABLE
- Works under clouds
- Set to three table heights
- Tough tempered glass
- lightweight aluminum frame
- Easy to carry and store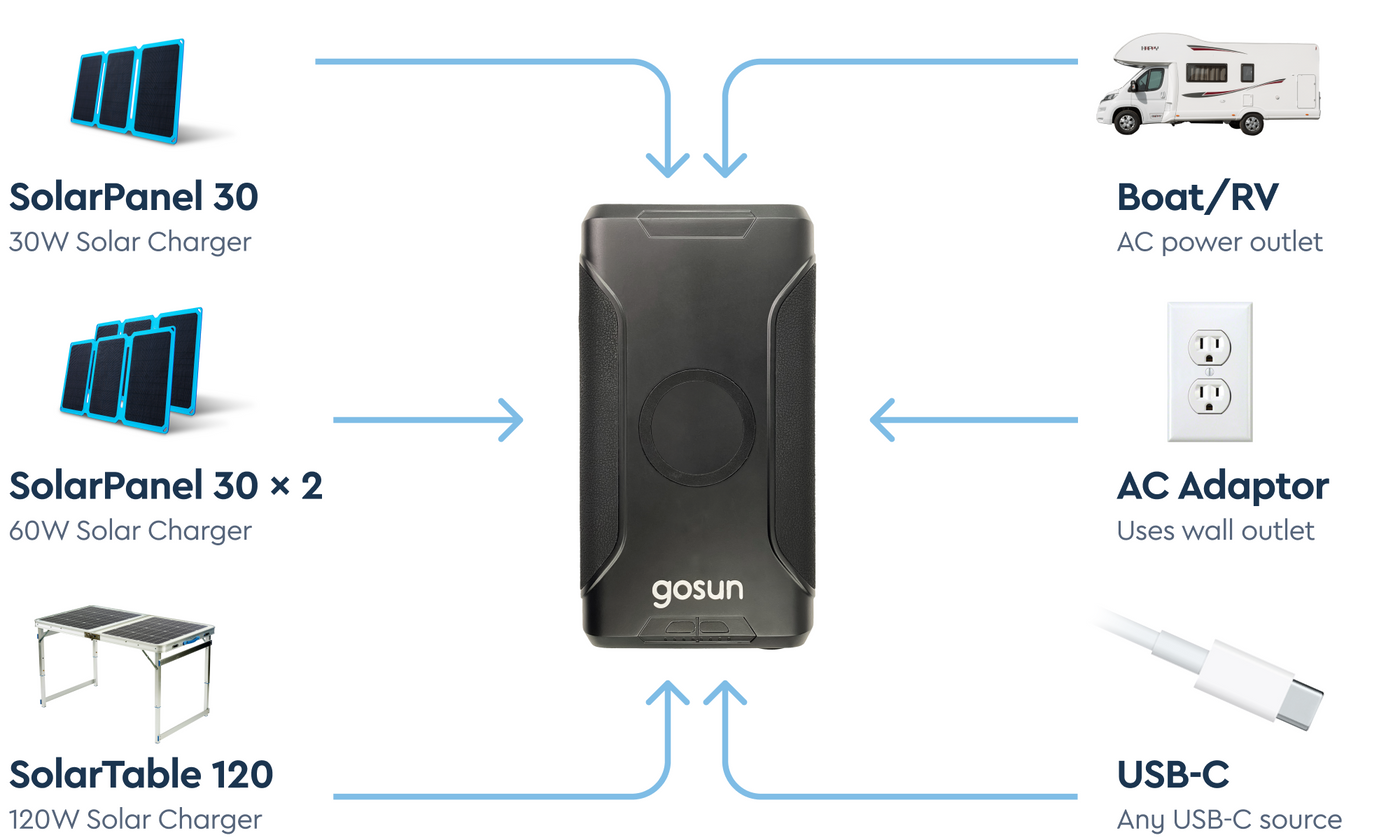 Recharge with ease
Recharge Power 266 from several power sources through its built-in MPPT charging circuit: 1) from a wall socket through the included AC Adapter (9 hours) 2) through USB-C PD (4 hours) or 3) from optional Solar Panels (in as little as 4 hours)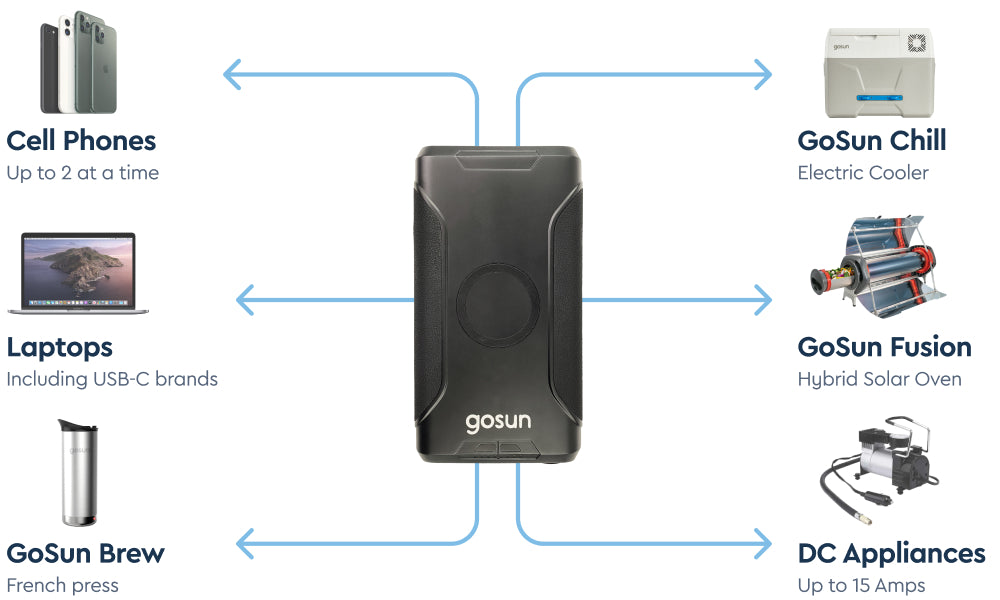 Power for your devices
Power laptops, phones, drones, cameras, lights, action, fans, CPAP machines, etc. an adjustable DC outlet ranges from 12 to 24 Volts to match your device's needs. Plus, a 12V cigarette port (world's most common port) provides up to 15Amps of current.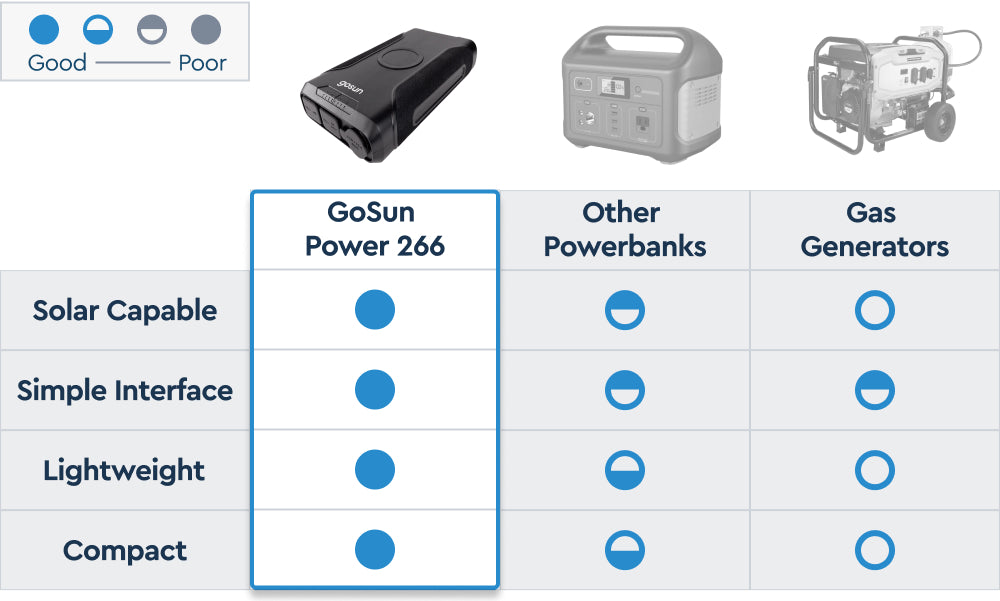 Join the Fuel Free Frontier
Harness the Sun's power better than ever, taking generators, extension cords and gas out of the equation.
Weight
25

Dimensions
Open- 48"x28"x19.25"
Closed-29"x26"x5"

Cable length
1.5 meters
Compatibility
Compatible with any generator/ power bank device via DC cord

Material
glass, aluminum and steel

Power Output
120 Watt - max

Ports
2 DC port's , 2 5.5x2.1mm coaxial connector's

Works under clouds
yes

Power source
Solar
Table 120
3-Way Combiner Cable


Customer Reviews
100
reviewers would recommend this product
Write a Review
Ask a Question
Filter Reviews:
table
products
GoSun
camping
panel
battery
power
Chillest
Solar Table 120
price
02 Mar 2023
Kelly G.

United States
I recommend this product
So excited to use this when it warms enough for me to emerge from my winter cocoon
If you only need a table some of the time, why not use it to gather the power of the sun for the time you aren't actively using it? 120W of power is a great asset to have. It comes with a connector to allow you to use both 60W panels at once as an input to your powerbank device - or you can gather into two powerbanks separately as both sides have their own capture cords,
05 Dec 2022
Griffin C.

United States
I recommend this product
Initial thoughts
I just got this table, and haven't had time to use it yet, but I'm being asked to review it. The best I can do is give my initial thoughts until I try it out next month, which will be camping in January with minimal sun. The table is solid, and pretty heavy. The weight is expected since it has a solar panel built in. The handle seems to be pretty good. The little clips that hold the table open or closed seem like they could be better. They look like over time they may break, but that's just a prediction. Some things that would make this a really great product: I display showing the amount of power being collected from the sun, how much is being sent to whatever is plugged into it, etc. I've seen a lot of solar products out there that have this. Some built in USB ports to charge a phone or tablet. It would be great if these were just built into the side or even the top of the table. It seems like I have to plug in a GoSun battery, and then plug my phone into that to charge it. It just seems like there could be a streamlined charging option. I'm a little worried about throwing this in the back of my truck to go camping, but hopefully it's durable enough for the ride. I'm not quite sure exactly how I'm going to use this. It's a table, so you want to put things on it, but then you're blocking the sun collection. So, will it be empty during the day, and then become a table at night? Not sure yet.
20 Sep 2022
Michael V.

United States
I recommend this product
Well Built
The Solar Table 120 to charge my Chillest solar cooler. So far I have had no issues with charging or with operating either item.
15 Jul 2022
Jemma M.

Ireland
I recommend this product
I absolutely love this product I live in Ireland and I've never come across products like gosun I'm obsessed with eco living and this solar table is a game changer ❤️ thank you Gosun
Would you like to know more about this product?