The floodgates for incredible eco-friendly devices have opened in 2021, and more carbon-neutral appliances are available than ever before. Engineers are coming up with solar-powered devices that are sleek and infinitely less cumbersome that their antiquated predecessors from the 20th century. And at the forefront of all this innovation is GoSun.
Our appliances include ovens, water purifiers, coolers, chargers, and even houses. The international media has started to notice that GoSun is using solar energy to power almost every object we use in our daily lives. Scroll down to see some of GoSun's best solar-powered devices. 
The Chill
The Chill is a modern-age refrigerator with unique capabilities: it's a solar-powered outdoor cooler that requires no ice to keep the contents cold. As Yanko Design notes, the theory on which an outdoor cooler is built, that the insulated box melts ice at a very slow rate, and in turn chills your beverages and food. GoSun Chill ditches ice completely and instead uses solar energy to keep the inside compartment cool – in many ways making it an 'outdoor fridge'.
To keep it going efficiently, GoSun Chill charges via multiple power source options. This includes the Powerbank, an AC adapter, a 12 Volt cord (carport charger), the Solar Table, or flexible solar panels. Choose the most convenient power source. It can keep food frozen for hours and keeps food items from getting soggy.
GoSun Solar Flashlight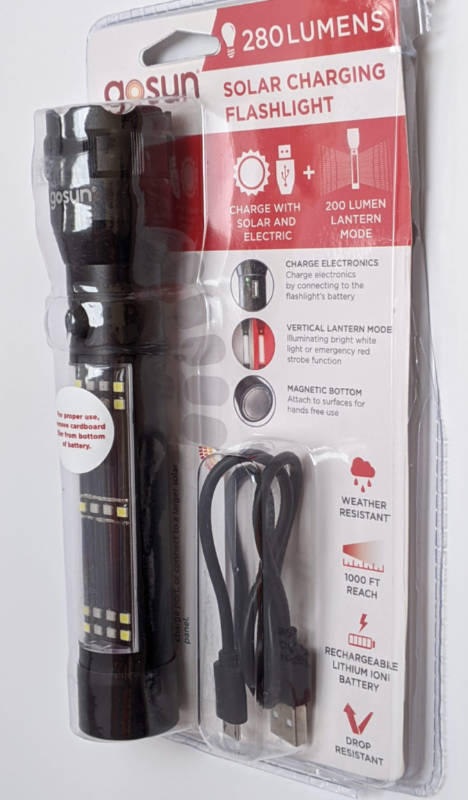 Here's the Gadgeteer's review of GoSun's Solar Flashlight:
The Gosun solar flashlight delivers a bright, long lasting main beam, and has an area light incorporated into the handle, along with a red flasher LED set. The light is micro-USB rechargeable and has solar assist charging via the handle mounted solar panel. The effectiveness of solar charging is covered below.
Design and features

The lens bezel has the familiar 'defensive' scalloping which is prevalent on many flashlights. The protrusions are not sharp so while being finger and pocket safe, may be less weapon-worthy.

The magnetic tail cap is relatively strong. Stiff wind should not move the light during outdoor use when held in position by the magnet.

This flashlight is lightweight and does not have the solid 'heft' of some of the big name tactical flashlights on the market. Not many of them are 7" rechargeables at this price point either, and there may be an advantage to the lighter weight.
Testing and observations

I charged the light fully and intentionally drained it to near zero light by leaving the light on bright for some hours. Given the newness of the battery and being generally against depleting Li-ion batteries to zero I did not make a point of the discharge time. Such a test might be more meaningful after several charge cycles to better establish the light's normal run-time.

The flashlight charged from extremely low light output to full battery in about 3 hours. Top-offs should be much faster. My first 'out of the package charge' to full took about an hour.

With the battery fully depleted I placed the light with the solar panel directly facing bright sun for 1 hour. Following that charge, the low beam gave useful light for about 15 minutes. At almost zero light capacity, after 8.5 hours of bright direct sunlight, the light gave 25 minutes of low beam light. This proved the solar panel charging is functional but should not be considered a primary feature. Gosun seems to give accurate direction that the light should be charged via USB cable and the solar feature is to provide supplemental power.

I illuminated my shed siding from 25 feet and about 15 feet. Pardon the glare from the semi-gloss paint. Note the concentric rings from both lights and the illumination of the grass. The center point of the Gosun is extremely bright and some find the outer circle 'throw' of light useful for peripheral lighting.

When in any mode one has to cycle through to get to off, but it's only 2-3 button pushes to off depending on the mode.

The Gosun Solar Flashlight produces bright light both through the main lens and via the handle incorporated area light LEDs. The red flashing LEDs would be highly visible when running or walking at night. I do not consider the red flash function adequate for daytime use and it may not be large or bright enough for night-time automotive use. I'd use the white main beam strobe as a day or night car breakdown light. Other cars will see that strobe!

YEA for the thumb button at the front of the light where it's easy to activate while being carried! I have some very good long flashlights with tail cap buttons. That's bad ergonomic engineering.

The area light LEDs are well positioned for walking in the dark. They face forward when the thumb is on or near the push button.

Can you charge your phone with this flashlight? I'd rather have my flashlight than my phone at times so it's a personal call. (pun) The battery in this light is marked '1200 mAh' but triple that capacity can be had from your favorite shopping/shipping site. So with a 3000 mAh or better, 18650 battery in the flashlight, there would be a bit of current to share if you depleted your cellphone.

It would be nice to have a more durable 'lens' over the handle LEDs but the light is relatively inexpensive. Given the bright white light from the main beam and the bright area light, rechargeability of this easy to find lithium battery, the magnetic tail cap, and the red warning flasher, it's hard to imagine this light could cost much less.

I'm calling this solar gadget a pretty good value given features vs. price IF you don't mind it not having a warranty.
GoSun Flow
The GoSun Flow filters 99.99% of pathogens from water. With a single charge, the Flow can purify 100 gallons of water to be used for hand-washing, showering, drinking or brewing coffee.

The Flow incorporates a 9-liter collapsible sink basin, a hose with various attachments (such as a shower head and faucet) and even has an 18.5 watt-hour lithium battery with an integrated solar panel. The sink itself weighs only 2.75 pounds.
Shop GoSun Flow ➞
GoSun Brew
The Brew is an incredible travel mug-French press combination. It is insulated like any travel mug, but includes a 12-volt heater and built-in French press, making it good for coffee- or tea-brewing while off the grid.
The idea is that you can boil water, and thus drink coffee, while camping, without needing to build a fire. Whether you're unable to make a fire because of unfavorable weather or a current campfire ban, the GoSun allows you to stay caffeinated.
Shop GoSun Brew ➞