More people are investing in Airbnb rentals as a form of real estate. You can earn high income from owning a property that others use as a vacation rental. However, most people don't own a guest house or don't want to invite strangers into their homes  by renting out a spare bedroom. With that in mind, purchasing a tiny house rental can be the smart move.
As noted in Mashable, the advantages of this type of investment property are obvious. A tiny home is the cheapest rental property you can invest in. Moreover, the process of setting it up is simple and can be done entirely by the owner. But perhaps the biggest advantage of buying a tiny house rental is the fact that they are in high demand. Recent Airbnb trends show an increased interest in these rental properties and the platform itself is home to 14,000 tin y house listings. This will lead to rapid cash flow.
What to Keep in Mind With a Tiny House Rental
There is a growing movement of eco-conscious urban dwellers that are rejecting consumerism, embracing minimalism and sufficiency, and trading in expensive dwellings for an off-grid tiny house. The options for such houses are growing and some are embracing the freedom of living completely off the grid.
There are many factors to consider when purchasing a tiny-house rental. How do you handle practical utilities issues like plumbing, electricity, sewage, and water? What are the challenges that come with living in an off-grid tiny house? How do you  overcome the challenges that will inevitably come? What do you do about appliances that require electricity but you can't live without? 
The good news is that you do not have to be a complete hermit to live in an off-grid tiny house, nor do you have to adopt an Amish lifestyle and completely forsake electricity. New solar powered devices are coming to market that make living off the grid easier than ever. 
Appliances for Your Tiny House Rental
The GoSun Fusion is is the flagship solar cooker from GoSun. It is the world's first solar oven that can also cook without Sun. A hybrid solar + electric oven runs on sunshine or 12Volt from your car, boat, RV or PowerBank.
Shop GoSun Fusion ➞
Meet the solar cooler that doesn't need ice. GoSun engineered a cooler that can keep colder temperatures longer and is more sanitary than anything else on the market.  Nothing is cleaner or easier than GoSun Chill. 
GoSun Chill can be powered by multiple power sources, including: Powerbank, AC Adapter, 12 Volt Cord (car port charger), Solar Table, or Flexible Solar Panels. This way, you can access the most convenient power sources when you need it. To charge the Powerbank, plug in the included AC Adapter into any wall socket (100-250VAC) or use one of our two solar charging options - the Solar Table or Flexible Solar Panel.
The Solar Panel 30 is a solar cell phone charger that easily folds up and produces an incredible amount of electricity to charge all your USB devices. It can charge up your phone with its built in usb port as fast at your plug in outlet.
Here are the dimensions:
• Unfold size: 267 mm x 349 mm x 2.5 mm
• Folded size: 267 mm x 175 mm x 5 mm
• Net weight: 0.43 kg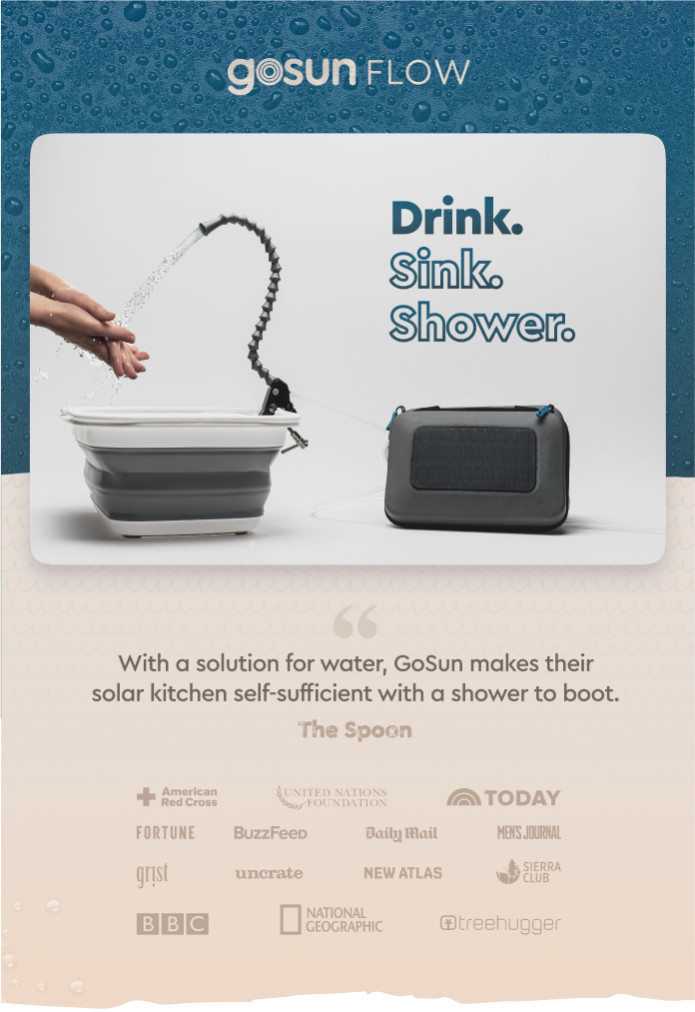 The GoSun Flow is doing things with solar energy that few ever considered. It purifies water -- up to 99.99% of all pathogens -- making it a portable handwashing station, shower, and source of clean water. It's small enough to fit into a backpack, which means clean water can now go wherever a person can. 
Our Choice for the Best Tiny House Rental
There are a growing number of tiny houses on the market. We think the GoSun Dream is the best. The Dream is a solar-powered off-grid tiny house. GoSun designed the Dream to help you live a more independent, healthy, and resilient life. No strings attached. Take any place. Park any place. Live anywhere.
The Dream comes with all of GoSun's breakthrough, portable solar appliances. Stay cool with the ice-free Chill, cook with the solar + electric hybrid Fusion, and clean with the Flow water system.
An easy home on wheels, the Dream is designed for locations with decent solar exposure and a lack of infrastructure - power, water, or gas. These sites can be found in urban and suburban settings, or in remote countryside or farms.