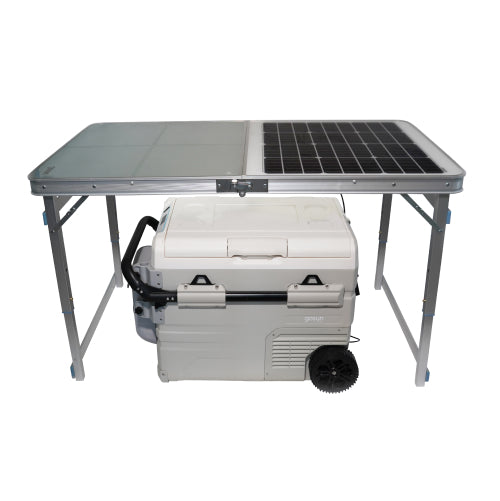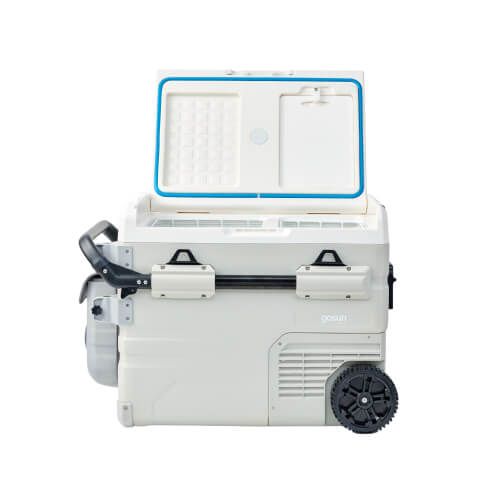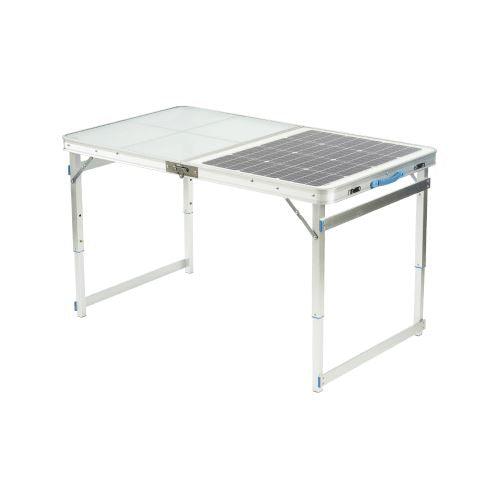 Chillest + SolarTable 60 - Electric Refrigerator & Table
Refrigerators
Ultimate portable fridge, the Chillest cools food and drinks with electricity from 12V, AC or Solar. 
The Dual Zone 45 Liter cooler prepares you for any outdoor adventure. Keep
 the fridge running in the shade under the table and use the sun via a 60 watt multi crystalline photovoltaic solar panel to charge other devices. A solar table top is unique way to fuel your picnic, camp, beach party or BBQ.
In stock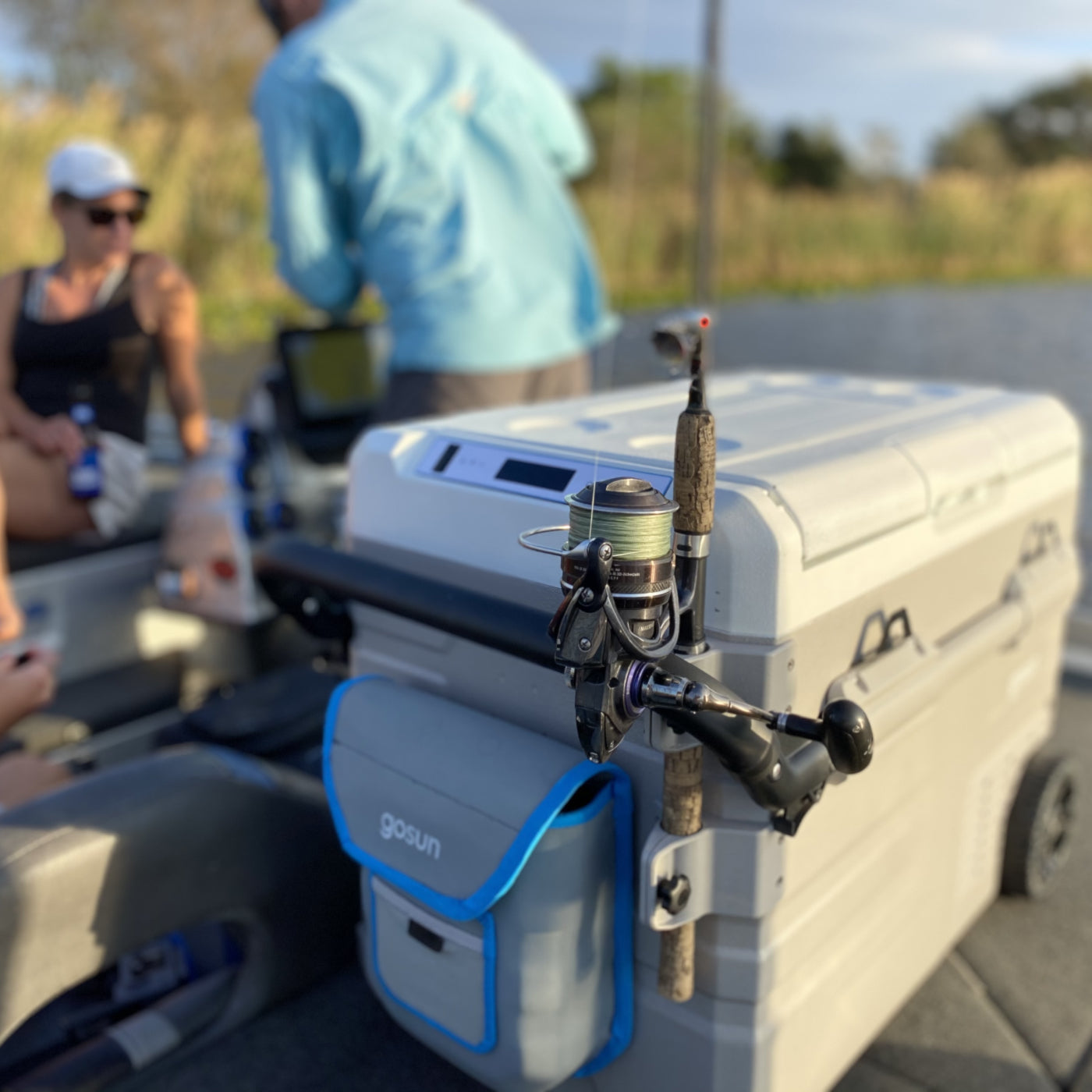 Extreme portability for any adventure
Take this solar cooler with you on all of your adventures. Power with any 12V source like a boat, car, truck or RV to extend the run time. The built in telescoping handle is designed for on-the-go movement, with large all-terrain wheels to handle uneven ground.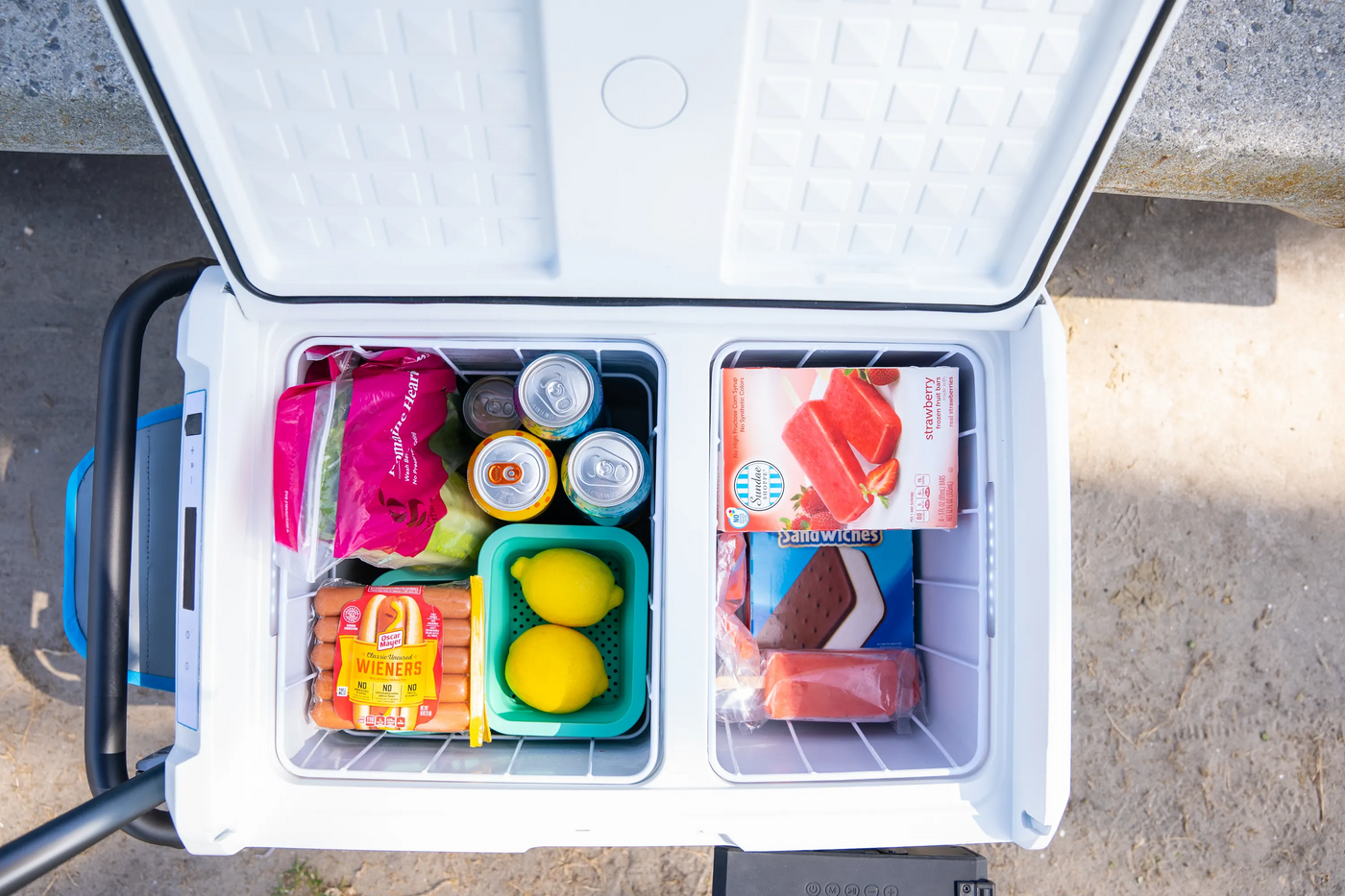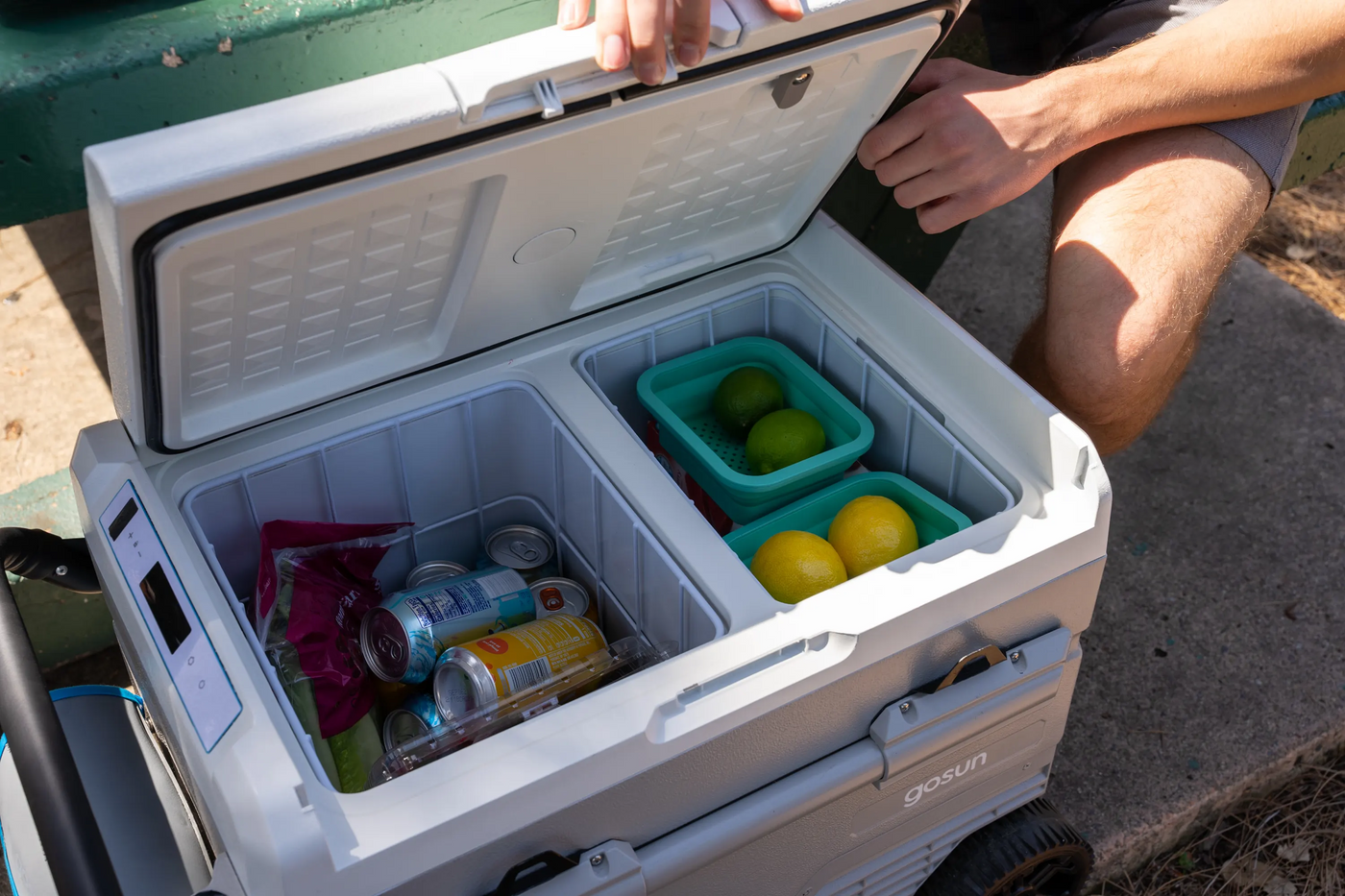 Cooling & freezing versatility
Two separate cooling zones allow you to set either zone as a freezer or fridge. The Chillest can get down to -4°F. With temperature control, keep both sides the perfect level of chill.
No More Ice
GoSun Chillest is a refrigerator and freezer on wheels. It gets so cold you can actually make your own ice, and ice-free cooling means all your snacks stay dry and organized.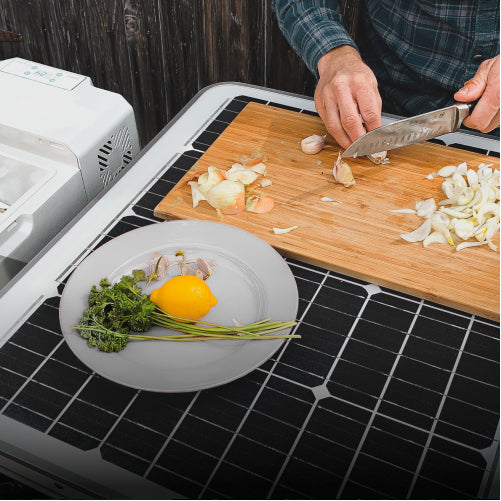 One of our most powerful chargers
Designed to recharge and provide shade for your Chillest or powerbank. The SolarTable 60's lightweight aluminum frame folds into a portable package that is easy to carry and store.
GoSun 'Chillest' Evolves the Portable Fridge -Gear Junkie
Amazingly, it takes fewer than 30 minutes to reach the temperature you select! -The Gadget Flow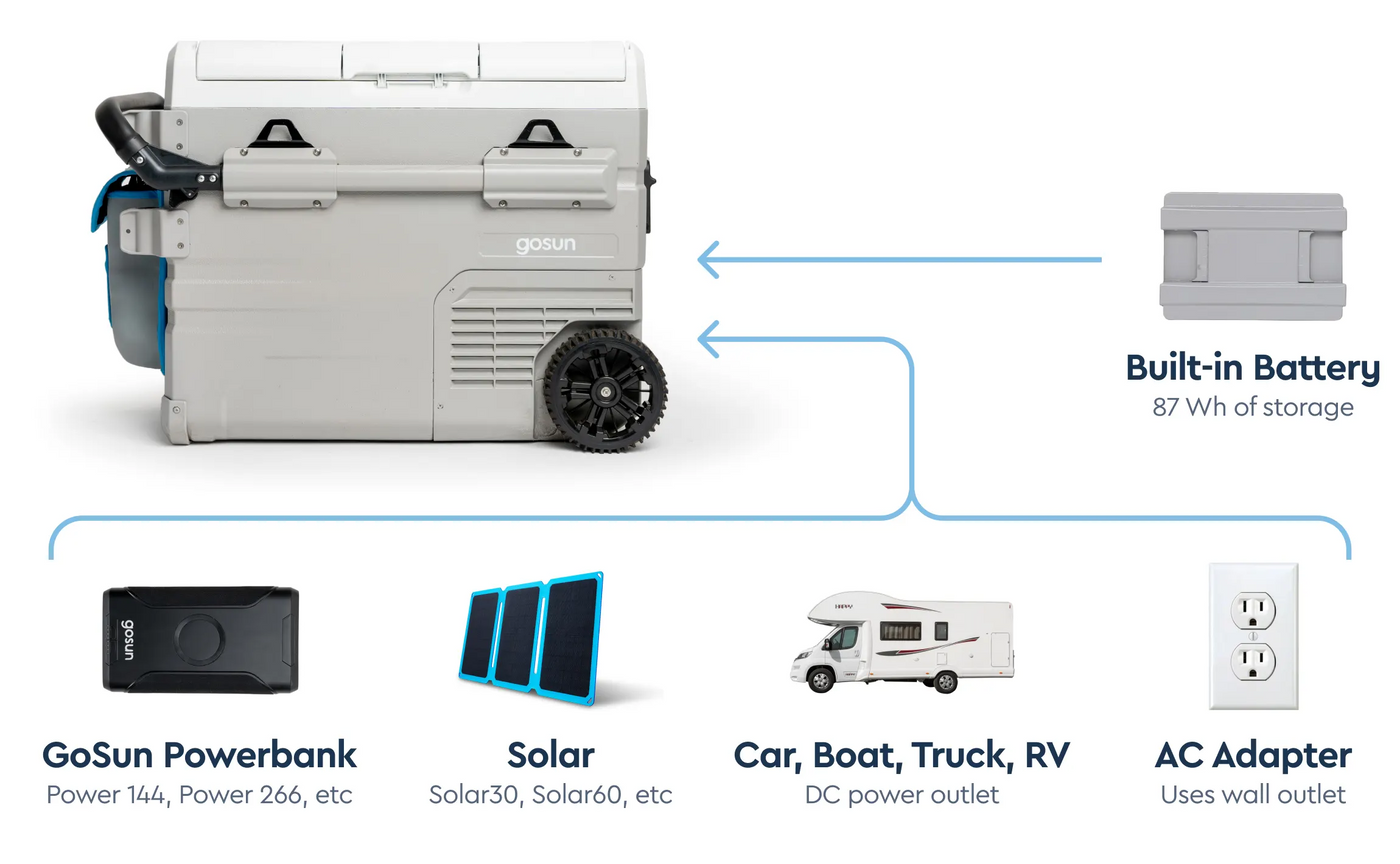 How it works
The Chillest can run off of it's built in 87Wh battery, external Power Banks like GoSun's Power 144 or 266, DC car outlet, wall adapter, or additional power from GoSun's Solar Panels like the 30 W Solar Panel, 60 W Solar Table, etc.
Chillest:

Weight
42

Dimensions
28" x 17" x 20.5"

Capacity
45L

SolarTable 60:

Weight
24.5 lbs

Dimensions
48" x 28" x 19-27"

Capacity
75 lbs

Chillest:

Max temp
-4°F to 68°F (-20°C to 20°C)

Insulation
R-10 Closed Cell Foam

Compressor
DC Brushless (runs on 12V or 24Vdc), draws 45-55 Watts


SolarTable 60:

Material
Aluminum, Stainless Steel, Tempered Glass

Power Output
60w

Ports
5.5 x 2.1mm Coaxial Connector
Chillest:

Solar Cooler
87wh integrated lithium ion battery
AC Adapter
12 Volt Power Cord
Tie Downs
Cutting Board
Bottle Opener
Waste Bag Hooks
Mount

SolarTable 60:
SolarTable 60
User Manual
Would you like to know more about this product?